By Rebecca Parsons
Despite growing up in landlocked Colorado, Nora Liotta was always destined for a life at sea. Liotta's parents both began surfing as teens and the pair met while surfing in Santa Cruz, California. Liotta's dad was an avid surfer and ocean lover and he wanted his kids to be surfers—he dreamed of the day he'd be able to relocate his family to a coastal town. In 2015, his dream finally came true, and the family made the move to Maui.
As soon as they stepped off the plane, the Liotta family felt at home. Once they cleared customs, the Liotta's made their way to the beach and quickly became regulars at their local beaches and lineup.
Although Liotta had tried surfing a few times on family trips to California, it wasn't until her family made the move to the Aloha State that she was truly able to immerse herself in the sport. She was ten years old when she first took up surfing but despite her young age, Liotta often felt behind when she compared herself to the other girls that had grown up surfing on Maui.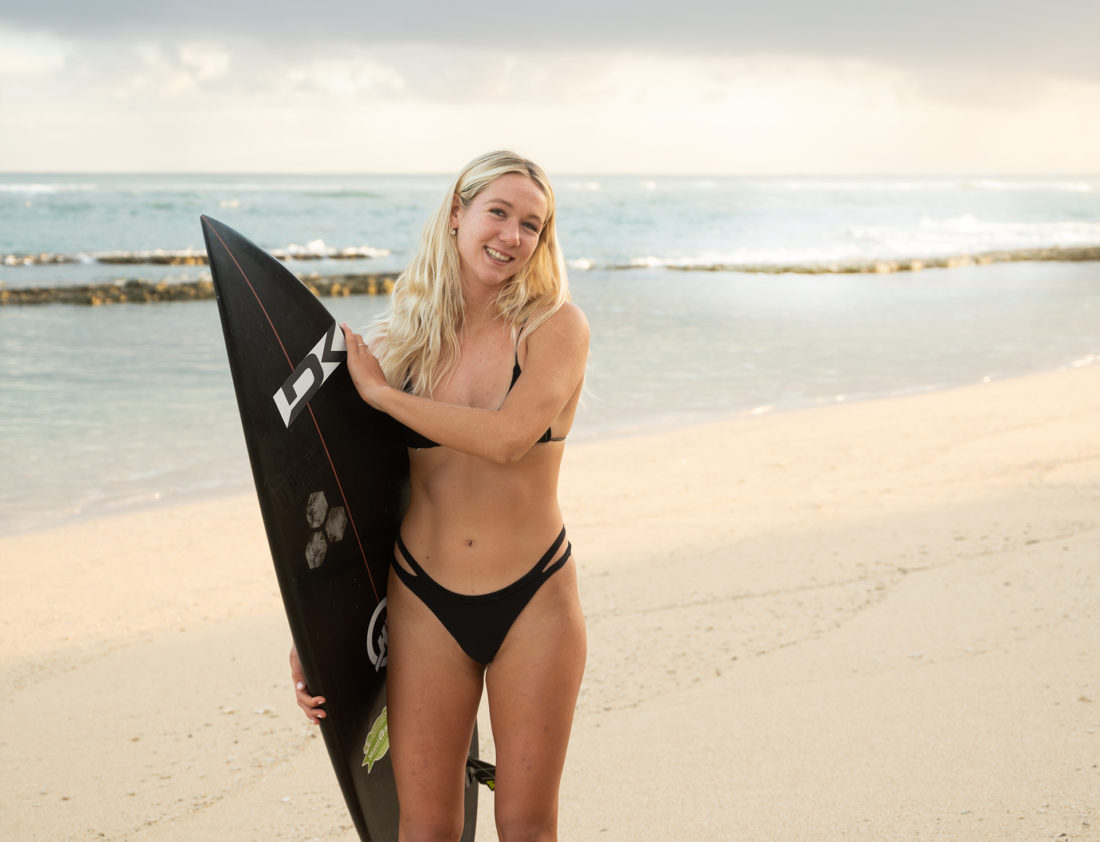 "Nothing beats experience with competitive surfing," says Liotta. "A lot of girls grew up surfing and competing since they could barely stand on a surfboard. I felt a little bit behind but that motivated me to work even harder to keep up with them and try to eventually surf against them at the same level."
When she was eleven, Liotta entered her first surf contest: Ian Walsh's Menehune Mayhem at Ho'okipa Beach Park. Despite her nerves and lack of experience, Liotta took home a second-place finish at the contest. Her results validated her hard work and inspired her to give competitive surfing a go.
Now, at age 18, Liotta has numerous contests under her belt and is more fired up than ever on competitive surfing. Her best results to date are 2nd place at the Papara Pro Junior Tahiti, 1st at Rip Curl's Grom 2021 in Florida, and 4th at the 2021 US Surfing Championships at Lower Trestles.
"The [contest] that I'm most proud of is not a contest that I won but it was a contest that I felt I really proved my surfing and was able to showcase what I can do," says Liotta of her 4th place finish at the US Surfing Championship. "I wasn't really excited about my performance in the final but all of the heats leading up to it I was really proud of myself."
Liotta has big goals backed with plans to make them happen. She has her sights set on qualifying for the CT and hopes to someday win a world title. In May, she's heading to Australia to compete in the Challenger Series and begin to put her plan into motion.
Never afraid to put in the work, Liotta adheres to a rigorous training routine in hopes of seeing her dreams come to fruition. She's homeschooled, which allows her to surf as frequently as possible, twice a day if the conditions allow. She also works out two to three days a week at Deep Relief, a surfer-based gym in Haiku. On top of surfing and going to the gym, the teen regularly road bikes and has been getting into running.
Although Liotta values nutrition, she doesn't adhere any particular diet. She does, however, prioritize eating clean, whole foods and her mom is a private chef, so eating well isn't a challenge in her home.
Liotta lives in Haiku, Maui, a ten-minute drive from her favorite surf spot: Ho'okipa. Ho'okipa is home to three breaks and is the main surf spot on the north shore of Maui, so the surf community is a strong one.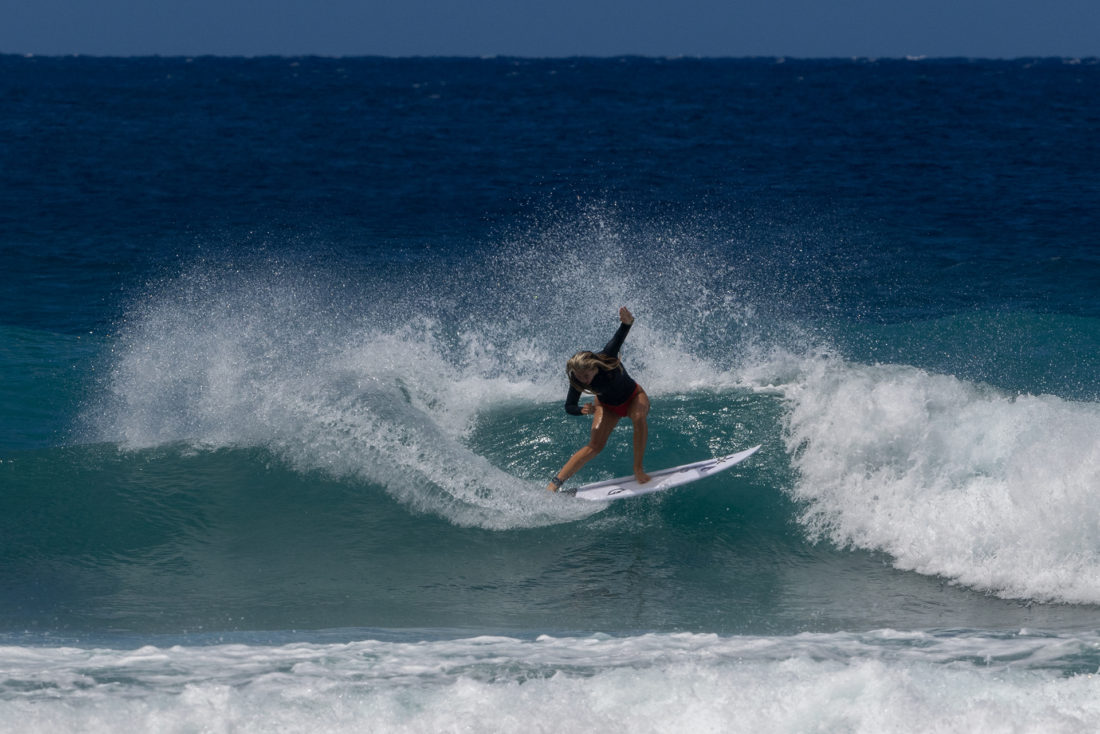 "Compared to other places like the North Shore of Oahu, [Maui] is tough because we don't have as many waves," says Liotta. "But we don't have as many people and although we don't have perfect conditions, when we do get those good days, you're so much more stoked. I really love Maui."
Although Maui frequently offers challenging conditions, Liotta credits those same conditions to making her a better surfer.
"I believe if you can surf bad waves well, then you can surf anywhere well," says Liotta. "But we also have special waves like Honolua Bay, Lahaina Harbor, and Ho'okipa—when Honolua Bay gets good, it's one of the best waves in the world."
Liotta is grateful to have grown up in a tight knit surf community where she sees the same faces in the lineup every day. Maui is home to many talented surfers and when Liotta is working on a new skill, she regularly asks people in the lineup for advice and tips—her local ohana has helped shape her into the talented surfer that she is today.
Although Liotta doesn't think her style is comparable to any of the women on tour, she is a big fan of Stephanie Gilmore and admires the Aussie's smooth, powerful style. At home, Liotta has a lot of female surfers to look up to, but she particularly admires Paige Alms. She thinks Alms is an incredible surfer and athlete and regards the big wave surfer as one of the best female surfers on Maui.
In addition to qualifying for the CT, another big goal of Liotta's has always been to be a part of the Hawaii surf team. This year, Nora's dream is coming to life and she will proudly surf for Team Hawaii at the ISA world junior championships in El Salvador.
"Surfing's not a team sport—it's a single person sport and it's kind of every man for himself," says Nora. "I've always wanted to experience surfing as a team, especially for Team Hawaii because I think Hawaii has some of the greatest surfing athletes in the world. I'm so excited and very proud to represent Team Hawaii."
Original Post from this site